Click image to enlarge and use arrow keys to see more!

Click image to enlarge and use arrow keys to see more!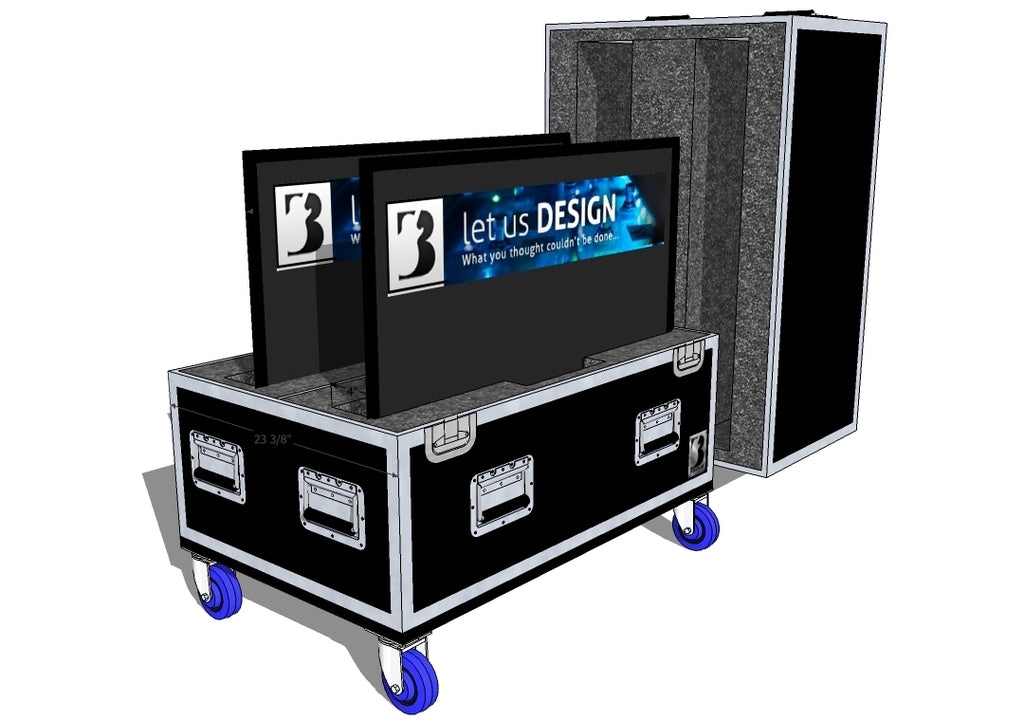 Details
This is a custom case for two (2) Plasma, LED, LCD or other flat screens. These are built custom to order and we have stock sizes but when you order, just verify your model so we can make it a snug fit on the inside of the case. If you're shipping your screen frequently, we recommend doing the 1/2 inch and doing the stenciling ("KEEP UPRIGHT", "FRAGILE", etc). Contact us for different colors shown on the palette. Search "Single Screen" if you only need one in the case. We can do any size screen so if it isn't listed, contact us for a quote
Standard Specs:
Thickness/material of your choice (we recommend at least 3/8 inch and polypropylene if you're wanting to save on weight)
4 recessed large latches
12 recessed large handles (8 on base, 4 on lift-off lid)
High quality foam on all sides (1" plank foam in base, at least 1" ester foam on sides and top)
4 inch heavy duty casters (2 locking)
How To Order:
Choose your wood thickness (on screens over 40" we recommend at least 3/8")
Choose your type (polyproplyene is 40% lighter than wood and can shave off quite a bit in weight)
Select whether you want storage space or not. These come standard at 11" in width, the depth of the case with 1/2" plank foam on all sides of storage compartment section. Let us know if you need specific sizes, cutouts, etc)
One photo shows a low profile base with a slot for an XBox and PS3 - contact for details!