Click image to enlarge and use arrow keys to see more!

Click image to enlarge and use arrow keys to see more!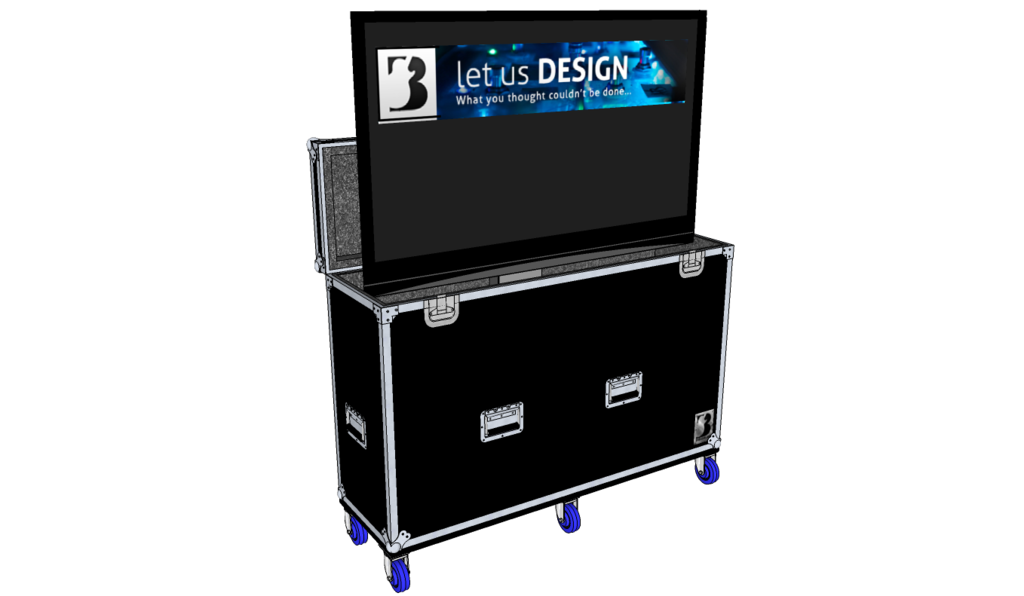 Screen Lift Case Motorized With Remote Control For Any Screen Or TV - Plasma/LCD/LED
Screen Lift Case Motorized With Remote Control For Any Screen Or TV -
Details
This is a custom case for your Plasma, LED, LCD or other flat screen. These are built custom to order and we have stock sizes but when you order, just verify your model so we can make it a snug fit on the inside of the case. If you're shipping your screen frequently, we recommend doing the 1/2 inch and doing the stenciling ("KEEP UPRIGHT", "FRAGILE", etc). We also can do full logo stenciling. Contact us for different colors shown on the palette. These come with an electric lift and a power inlet is included on the side. You just plug power into the case, lift the lid (or we can make it remove if you'd like for the same price), hit the button or use the remote (included) and the screen raises up and is powered by the inlet as well. It is an easy one-man setup.
We now build these standard so that it isn't the whole lid that hinges, just a section so there is less weight on the lift when it is raised up and so the screen is centered. You undo the two latches on top and it will push the top lid back. There are 1 or 2 access hatches on the back as well to access cabling, power, etc. We can always build in gaming consoles, Apple TVs, DVD players, etc.
We can do any size screen so if it isn't listed, contact us for a quote! 
Standard Specs:
½" birch is standard (contact us for other options)
2-3 recessed large latches (depending on screen size)
4 recessed large handles (8 if larger case that requires them)
High quality foam where needed
4 inch heavy duty casters (2 locking) - some wider cases will have an extra 2 casters in the middle for support. 
How To Order:
Look through the available options to see if there are any upgrades there that you'd like (jacks, extra access storage, etc)
If you have specific devices or storage area you need added into the back of the case, let us know.
If you have other needs like a wrap, have a skirt or way to hide the case that can be an option or we can point you towards some companies that make them.
If you want any jacks, just let us know. 

Our cases can have pretty much any kind of jack installed (Cat5E, HDMI, USB, FireWire 400/800, optical, fiber optic, component , XLR, midi, SDI, BNC, etc) for power, video, audio, data, etc. 

You'll notice a jump in price on screens over 60" because we have to use a different lift with a taller travel height. We can use that lift on smaller screens if you want to raise the case up higher out of the case for an additional price.